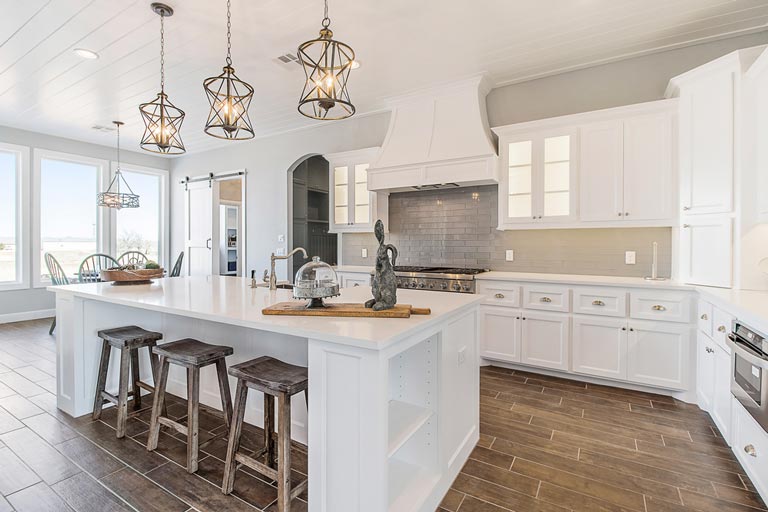 Titusville Kitchen and Bathroom Remodeling
Kitchen and bathroom remodeling are two of the best ways to add value to your home—not to mention improve your everyday quality of life. A modernized, comfortable bathroom can become your sanctuary each morning and night, and a sophisticated kitchen has the potential to become the most-used room of your home. Whatever your vision, Buchel Construction brings it to life.
We bring a transformative touch to homes throughout Titusville, FL, with kitchen and bathroom remodeling services like no other. From simple modernizations to renovations that take your room down to the studs, we rejuvenate these spaces to make them everything you imagined they could be.
New Countertops
From butcher block kitchen counters to real granite and marble in the bathroom, we furnish your spaces with countertops that set the tone of sophisticated elegance. Our construction professionals cut countertops to exact specifications and ensure they're a clear complement to your kitchen or bath aesthetic. We guarantee exceptional materials, whether that means natural stone, synthetic materials or composites.
New Cabinets
Cabinets are the face of every kitchen and a must-have for bathrooms of all sizes. We install and reface cabinets, and can help you explore the best use of space and storage with new cabinetry that adds personality to the space. Choose from a wide assortment of cabinet styles and materials, and consult with our team about the best arrangement and allocation for your space.
New Flooring
The right flooring makes a significant impact on the aesthetic of a kitchen or bathroom remodel. Whether you want regal hardwood or tile, or versatile vinyl or engineered wood, our expert installers will get it laid with precision. The right flooring sets the tone for your kitchen or bath, exuding quality underfoot with every step you take.
Custom Tile Backsplashes
A professionally installed backsplash makes a bold statement. In your kitchen, it's the cohesion between your countertops and cabinetry, and sets the tone for accents behind your appliances. In the bathroom, tile backsplashes give way to stunning showers, vanity accents and much more. Our tiling experts can create a beautiful accent piece that ties the design elements of your room together with continuity and dramatic appeal.
New Plumbing Fixtures
The behind-the-scenes installations of your kitchen or bathroom remodel are just as important as how the remodel looks. Our team coordinates plumbing fixtures and installations to fit the scope of your remodel. From new kitchen appliances to improvements for your bathroom sink, toilet and tub, we coordinate the plumbing and the fixtures that ensure the best of both efficiency and aesthetics.
Get in Touch
Your home deserves the very best in kitchen and bathroom upgrades, installed by a talented team that has your vision top-of-mind. Contact Buchel Construction today at 321-212-7637 to learn more about kitchen and bath remodeling services. We're excited to help you raise the standard of living in your Titusville, FL home and explore the benefits of a complete remodel. Contact us today to schedule a free remodeling consultation.